Terre Francescane Leccino 6-Pack
Log in to view price or request an account.
Produced by Frantoio Gradassi
This medium intensity extra virgin olive oil produced from green Leccino olives has notable aromas of green herbs and almonds. Try pairing with leafy green salads and garden salads.
Extra Virgin 16.9 fl oz (500ml)

Extra virgin olive oil is the highest quality olive oil. By definition it must have some fruity flavor, zero defects, free fatty acid level below 0.8%, and be derived by cold extraction below 27°C ~ 80°F.

Varietals: Leccino

There are hundreds of olive tree varieties, each with its own distinct taste and aromas.

Intensity: Medium

Intensity correlates to the amount of bitterness and/or pungency experienced when consuming an extra virgin olive oil. An olive oil with little bitterness that creates little to no sensation in the back of the throat is considered mild. A very bitter olive oil that causes a slight burning or spicy sensation in the mouth and throat is robust. We rate intensity between 5 values: Mild, Medium, Medium Robust, Robust and Extreme.

Acidity (%): 0.28

Acidity is one of the quality parameters set by the IOC for extra virgin olive oil. By definition extra virgin olive oil must have a free fatty acid level below 0.8%. Acidity CANNOT be detected by sensory analysis. This value is always determined by a laboratory.

Harvest Date: Fall 2022

As a fresh food product, properly stored olive oil should be consumed within 2 years from the time of harvest for best flavor. Harvest runs from October through January in Northern Hemisphere regions, and from April through July in Southern Hemisphere regions.
Pairs Well With
Leafy Green Salads

Garden Salads

Raw Vegetables

Boiled/Steamed Veg

Broiled Fish

Grilled Fish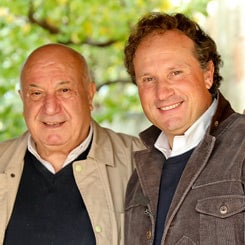 MADE FOR YOU BY
Frantoio Gradassi
For many years the Gradassi family has been meticulously cultivating olives on the rocky terrains surrounding the medieval hilltop town of Campello sul Clitunno in the central Italian region of Umbria, known for its abundance in rich vegetation as the "Green Heart of Italy."
Following a centuries-old family tradition, the olives are carefully handpicked and then brought to the olive mill on their Estate, which dates back to 1639. The Gradassi family produces some of the most spectacular extra virgin olive oils in Umbria. In 1998 the Gradassis helped form CUFROL, an organization to help consolidate the bottling and storage of oil produced by several local olive mills, the owners of which control a minority share in the company. Warmth, simplicity, authenticity and an incredible passion for the good things in life is their philosophy.