Pietre al Monte Olio Nuovo 16-Pack
Log in to view price or request an account.
Produced by Pietre al Monte
This medium intensity extra virgin novello olive oil produced from green Frantoio olives has notable aromas of olives and green herbs.
Extra Virgin NOVELLO 6.76 fl oz (200ml)

Novello olive oils are a celebration of the beginning of the olive harvest season, produced from the early harvest green olives to create the freshest tasting olive oil available.

Varietals: Frantoio, Leccino

There are hundreds of olive tree varieties, each with its own distinct taste and aromas.

Intensity: Medium

Intensity correlates to the amount of bitterness and/or pungency experienced when consuming an extra virgin olive oil. An olive oil with little bitterness that creates little to no sensation in the back of the throat is considered mild. A very bitter olive oil that causes a slight burning or spicy sensation in the mouth and throat is robust. We rate intensity between 5 values: Mild, Medium, Medium Robust, Robust and Extreme.

Polyphenols (mg/kg): 352

Polyphenols are antioxidant micronutrients found in plant-based foods. The phenolic concentration in olive oil depends on variables like the variety, ripeness at harvest, extraction methods, etc. Visit our Health Benefits page to learn more.

Acidity (%): 0.17

Acidity is one of the quality parameters set by the IOC for extra virgin olive oil. By definition extra virgin olive oil must have a free fatty acid level below 0.8%. Acidity CANNOT be detected by sensory analysis. This value is always determined by a laboratory.

Harvest Date: Fall 2023 (NOVELLO)

As a fresh food product, properly stored olive oil should be consumed within 2 years from the time of harvest for best flavor. Harvest runs from October through January in Northern Hemisphere regions, and from April through July in Southern Hemisphere regions.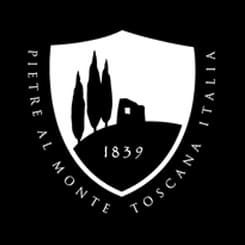 MADE FOR YOU BY
Pietre al Monte
From their private estate nestled among the cypress trees in the heart of Chianti in Tuscany, Pietre al Monte creates some of the most exclusive, exquisite extra virgin olive oils in the world. The estate is situated on lands inhabited since before 400 CE, and the company continues to restore ancient stone buildings on the land, with goal of transforming the space into a sanctuary for countryside living.
Restoring and expanding ancient olive groves remains another high priority, as the region's soils and microclimate combine to create the ideal conditions for producing pristine olives. All farm labor is done by hand following traditional and natural methods, with the olives crushed using a cold extraction process that results in pure, intense, pungent oils full of polyphenols and antioxidants. The oils of Pietre al Monte are truly a Tuscan treasure.