Morgenster Estate 6-Pack
Western Cape, South Africa
Log in to view price or request an account.
Produced by Morgenster Estate
This medium intensity extra virgin olive oil produced from green Frantoio olives has notable aromas of grass and tomato vine. Silver award winner in 2018 from L'Orciolo d'Oro. Try pairing with leafy green salads and roasted/grilled veg.
Extra Virgin 16.9 fl oz (500ml)

Extra virgin olive oil is the highest quality olive oil. By definition it must have some fruity flavor, zero defects, free fatty acid level below 0.8%, and be derived by cold extraction below 27°C ~ 80°F.

Varietals: Frantoio, Coratina, Nocellara del Belice, Peranzana, Don Carlo, Leccino

There are hundreds of olive tree varieties, each with its own distinct taste and aromas.

Intensity: Medium

Intensity correlates to the amount of bitterness and/or pungency experienced when consuming an extra virgin olive oil. An olive oil with little bitterness that creates little to no sensation in the back of the throat is considered mild. A very bitter olive oil that causes a slight burning or spicy sensation in the mouth and throat is robust. We rate intensity between 5 values: Mild, Medium, Medium Robust, Robust and Extreme.

Harvest Date: Spring 2023

As a fresh food product, properly stored olive oil should be consumed within 2 years from the time of harvest for best flavor. Harvest runs from October through January in Northern Hemisphere regions, and from April through July in Southern Hemisphere regions.
Pairs Well With
Leafy Green Salads

Roasted/Grilled Veg

White Meat

Broiled Fish

Legumes/Pulses

Soups & Stews
Recent International Awards
Awarded by accredited organizations.
2018

L'Orciolo d'Oro

Silver

2017

Sol d'Oro

Gold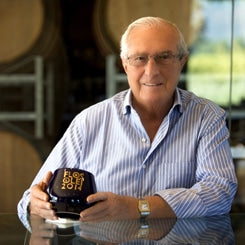 MADE FOR YOU BY
Morgenster Estate
For 300 years Morgenster has attracted and inspired people through its blend of beautiful surroundings, excellent terrior and a manor house recognized as one of the great houses of the Western Cape. Morgenster Estate owner, Giulio Bertrand, maintains a lifelong philosophy of producing only the highest quality products in line with his motto: "Where there is passion there is no compromise". He built a long-term partnership with the Olive Oil Research Institute of Italy from where he imports the world's most renowned olive tree varieties and leading production technology.
The trees are propagated in the Morgenster nursery and are then sold to local farms to advance the local olive industry. This has given South Africa a competitive edge and the Estate continues to garner coveted local and international awards. Past awards have included "Best Blended Olive Oil in the world" and "Mill of the year" at L'Extravergine and most recently the ''Made with Love'' Farm award in the 2014 Flos Olei Guide with a farm rating of 98/100.