Henri Mor Family Reserve 12-Pack 2021 Harvest
Log in to view price or request an account.
Produced by Henri Mor
This medium intensity extra virgin olive oil produced from both green and ripe Arbequina olives has notable aromas of tomato and almonds. Gold award winner in 2021 from NYIOOC. Try pairing with leafy green salads and fruit salads.
Extra Virgin 16.9 fl oz (500ml)

Extra virgin olive oil is the highest quality olive oil. By definition it must have some fruity flavor, zero defects, free fatty acid level below 0.8%, and be derived by cold extraction below 27°C ~ 80°F.

Varietals: Arbequina

There are hundreds of olive tree varieties, each with its own distinct taste and aromas.

Intensity: Medium

Intensity correlates to the amount of bitterness and/or pungency experienced when consuming an extra virgin olive oil. An olive oil with little bitterness that creates little to no sensation in the back of the throat is considered mild. A very bitter olive oil that causes a slight burning or spicy sensation in the mouth and throat is robust. We rate intensity between 5 values: Mild, Medium, Medium Robust, Robust and Extreme.

Polyphenols: Information not provided

Polyphenols are antioxidant micronutrients found in plant-based foods. The phenolic concentration in olive oil depends on variables like the variety, ripeness at harvest, extraction methods, etc. Visit our Health Benefits page to learn more.

Acidity: Information not provided

Acidity is one of the quality parameters set by the IOC for extra virgin olive oil. By definition extra virgin olive oil must have a free fatty acid level below 0.8%. Acidity CANNOT be detected by sensory analysis. This value is always determined by a laboratory.

Harvest Date: Fall 2021

As a fresh food product, properly stored olive oil should be consumed within 2 years from the time of harvest for best flavor. Harvest runs from October through January in Northern Hemisphere regions, and from April through July in Southern Hemisphere regions.
Pairs Well With
Leafy Green Salads

Fruit Salads

Boiled/Steamed Veg

Broiled Fish

Poached Fish

Soft Cheese
Recent International Awards
Awarded by accredited organizations.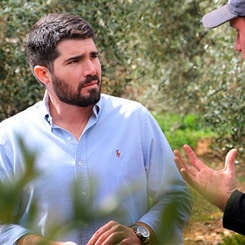 MADE FOR YOU BY
Henri Mor
A more recent arrival on the premium extra virgin olive oil scene, the Henri Mor company focuses their passion for olive cultivation on the Arbequina variety. All the Arbequina olive trees of Henri Mor are grown in their native soil in the Province of Lleida, in Catalonia, Spain.
This area is known for its dry climate, rough land, and aromatic forests, with each feature contributing its essence to help create truly unique Arbequina oils. These products all receive certification under PDO Les Garrigues, ensuring strict quality controls and oils that reach their maximum sensory attributes. The passion of the Henri Mor company extends also to their consumers, for their work would mean nothing without the love of families toasting good health and sharing fine foods together.